i saw that sight outside the window and was utterly and completely disappointed
i was like
WTH
my very first night
and 4 cek has been saying about how amazing the sunsets here are
but again
my friends here all believe that the rain will never drop whenever i whipped out the camera
apparently until today
it never does rained !
i took another glance to the left
and what i saw was....
quickly i took the tripod
whipped the camera out
and ran to the other side of the level 2 floor i was staying
it has a balcony of sort there
set up my tripod
pluck in my cable release
and
.
.
.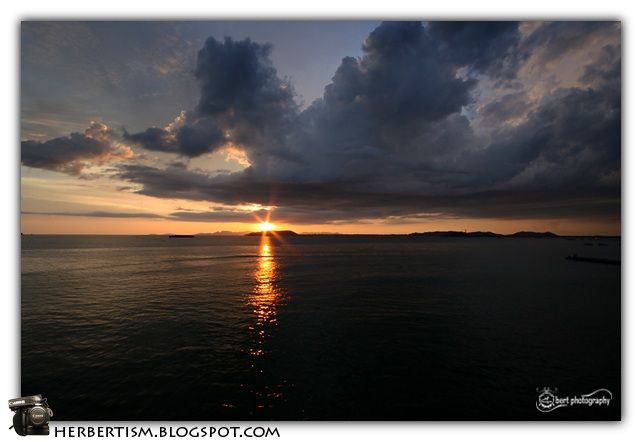 this particular sunset was simply amazing
honestly
i think i've never seen a sunset better than this
i mean
yeah i've seen sunset better than this before
but those time i never had my camera with me one always
coz it's either i'm in the car back home
or in school here
i fired away a few pics till the sun eventually dropped into the sea right
and then quickly
i ran downstairs by the sea to snap some more
that's what's near the sea
shot that before continuing firing away at the amazing set
all pics posted are not what happened subsequently
posted them randomly
coz a bit lazy to check the time one by one with the original files already la
just when the sky begin to darken
i set the camera to manual mode
bulb for the shutter speed
and began a 4 mins long shutter speed
should be around 4 mins la
coz most of the time when it's dark like that time
i'll just straight away open a 4 mins shutter speed
and then...
i got an underexposed pic
and it was already dark
but i really like the clouds there
so i go to photoshop
push up the level up
and all the bleerdy noise pop up
and got this
ignore the noise
the clouds nice right !
and when it got dark
and after i've pack back my equipments
i rain dropped super heavily machiam tom chasing jerry like that
i spent my very first night then watching tv before finally heading to bed
4 cek was amazed by the sunset and has promised to wake me up the next morning for sunrise
however, i told him
"er..sunset and sunrise don't rise and set at the same place one leh"
and he just said
"nevermind
we'll just see tomorrow how
just make sure can wake up first la"
so let's see tomorrow how !