okay...
let's talk about today,
lots of things didn't went as planned XD
firstly
woke up terribly late (ok, nobody woke me up) that i missed the morning temple visit i was supposed to go
woke up just in time to go lunch with f
but before that got a bit of time to go to the optical shop to go ask if my glasses were ready
and when they said
"2 days later" = "2 working days later"
see i made the glasses on the 26th,
aren't the 28th two days later ?
ok nvm about that
wanted to take my small camera to snap around my days
but was quite in a rush in the morning that i totally forgot bout it till when i was already in the car
had pizza for lunch
after that came home
what's the best thing to do to waste time ?
play games :D
time will travel so fast you won't freaking realise it !
so i came back home and hantam some game at the ps2
after that quickly bathe and went for dinner with my darling baby honey, f
oh yeah, supposed to go to the temple in the afternoon right
mum said today sure a lot of people
so go another day
may be shall go tomorrow d
back to the dinner
went to fountain with 10 other friends of f
whom most of them know me
but i dunno any of them.........that well.
then come back home and hantam some more games
lol
got an inspiration for a love-themed concept while listening to gareth gates just now
yes...
GARETH GATES
lol
how ?
i dunno
wait :D
will definitely make this image come true
oh yeah
another final thing to talk about today is....
i think those of you who had been following this blog for a while should know that ever since i got addicted to photography, i'd visit some other cities, on what i call "photography+work-road trip", and this time round,
i had been thinking since when i was in singapore
was thinking of saving $$ and go to KL again
at the same time can visit my sister
but then spent most of that $$ on new equipments for the 50d and other things XD
so cancel d
then no choice, have to follow the salesman again
their route were not that much of a choice,
sibolga (visited), aceh (visited also) and another city i forgot but, i haven't heard of anything landscapically beautiful about that city before so it's compeltely ruled out
my first choice was initially sibolga,
was not that 100% pleased with the results i got the first time i was there so wanna go there again
in addition, sibolga offers better and more beautiful views too
but then..................................
when i got back home here,
the salesman had just came back from sibolga
so no choice
this MONDAY........i MIGHT be following him to aceh again :D
this time round though,
will hopefully be able to travel further :)
okay la
enough rants
final post of c + r,
containing my most favs shots of the entire series :D :D :D
but
.
.
.
.
.
instead of losing some blood (thankfully nv) to the very sharp rusty looking stones (i know stones cannot rust one ok, they just look very rusty like that onli)
r lost her "just married" couple sandals instead
r has had hers in white while i think c's black
damn sad
i think one of the kids who'd follow us around everywhere we went must have snatched it while we weren't noticing
damn them
but kudos to the couple really
after losing r's sandals
they were still able to pose and smile lovingly
i guess,
the love they shared is far greater than such a lost
something they must've bought together
thinking that i'd be really shoot to have them worn around their house once they're married
touched me a bit
we went back to the first initial place of shooting to do some more scenes
and i
kept on snapping with the fisheye lens XD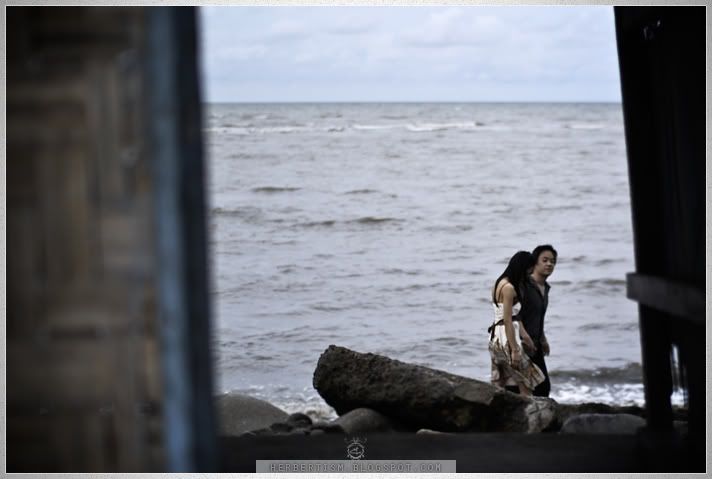 then we moved to the other side of the beach we haven't explored yet
damn sad
this pic not sharp :(
they walked so fast
and the videographer kept following behind them
i shot like some 6 pics of this
and only 1 that i managed to get them in the frame without the videographer
and i screwed the focus up
:(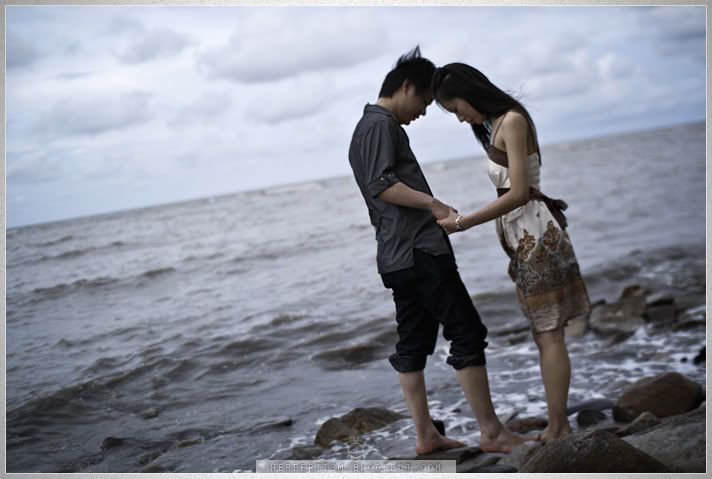 oh ya,
by now
i've finally changed my lens back to the sigma 30mm d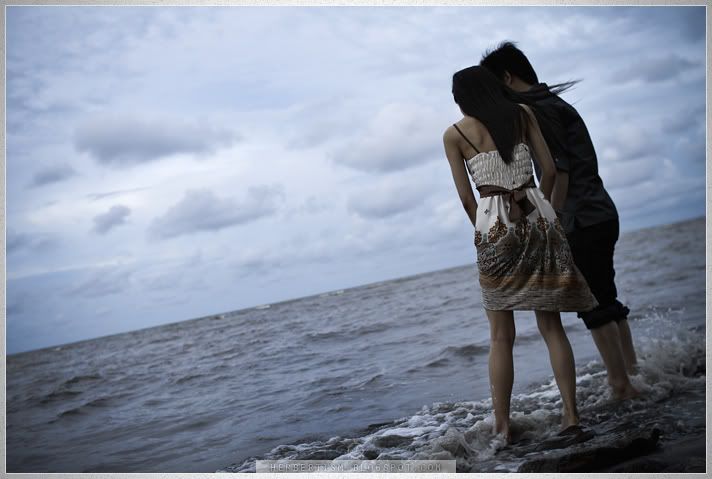 again kept snapping snapping
for this one
i've had rocks and stones behind me that i cannot really bend that low to get this kinda viewpoint
so i used the liveview function instead
thanks liveview :D
lol
and then we went for the final scene
the kissing scene
which was pretty damn long
lol
this was again shot with the liveview function
but then as i saw something moving in the frame
i don't care about bending down already
and went down
on my knees and elbows
to frame this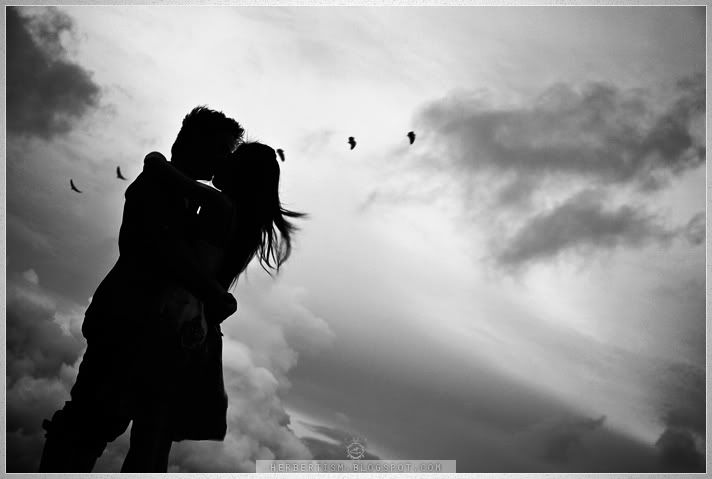 my fav shot of the entire series
:D :D :D
entitled
"lovebirds"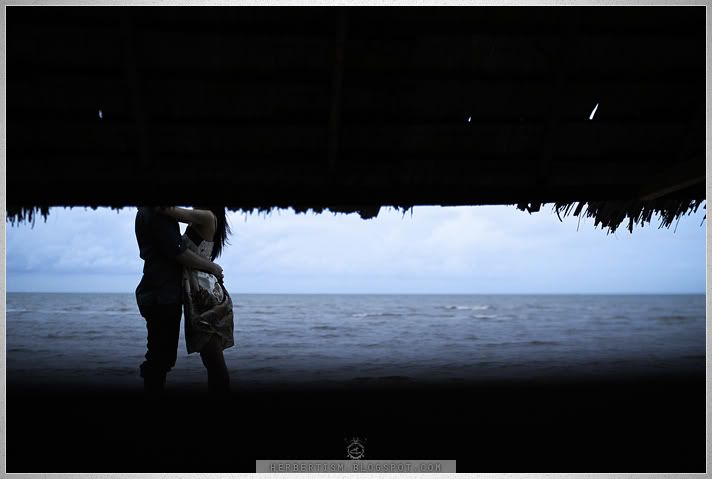 final pic !
hope u guys enjoyed viewing them
and i sincerealy wish the couple the bestest wedding
and may the love they share today last till the day they turn old and gray and that nothing will tear and break their love apart but grew stronger as these two individuals, two hearts, share a single soul