this putrajaya part will be the longest part of my entire Kuala Lumpur trip man !
the outing alone practically made my entire trip worth it, well besides from meeting with the KL guys there
yesterday had been pretty slacky, woke up like at 5pm then went downstairs to eat, got back to my room to watch some more dvds, all those movies that i haven't had the time to watch back in singapore and as outdated as i am, i finally watch ah long pte ltd ok, yes i'm very laggy but don't care ! and i guess many more days will come by with me sitting just here watching movies and editing my pictures and thus far i've yet to complete editing the KL trip though i've finally managed to finish editing the entire putrajaya shoots which means i'm left with my final day pics which will include lots and lots and lots and lots and many many many cam-ho-ing phictures of rames, smashpop, cindy and meself, and yesterday is indeed superbly slacky where i didn't go out at all and stay home, i was however, about to go out to go buy myself a 580EX II when dad finally agreed to sponsor me :D coz i bought the 580 EX entirely on my own cash and now that it's screwed up and it's been almost a year of me firing it i kinda thought that it's time for a change and well when i tried on the 580 EX II of splashmilk back in KL i kinda fell in love with it there and then and i knew i gotta get myself one of that !!! lol !! but then the shop that i usually bought my equipments from didn't had any of the flash in stock no more so i remained home the rest of the day watching dvd, editing me pics and talking with me love on da fone :D
today was practically almost the same too only that i went out for a TPC (toba photographer club ( one of the photography club in medan ) ) at about 7 pm just now and got back close to 11pm, finally meeting the guys that i've been talking simply through the msn or YM. chatted and talk a bit of photography with the guys and bought myself some indo mc d which is more to their fried chicken than burgers home and whallop them with bro while watching indonesian idol NUMBER 5...oh my god can ! indonesian idol is on their 5th season ! and then back to my room talking with me love again on da fone which i just found out cost superbly damn cheap calling from the same operators, RUPIAH 300 no matter how long you call, how so damn cheap is that ? u call 5 mins = rp. 300, u call 1 hour also rp.300 but the damn provider always screw u up and hang u automatically every other hour so i kinda just conclude that it's like rp.300 per hour which in ringgit will be like 10 CENTS per hour and in sing dollars will be macham 4 CENTS per hour !! OH ME GOD SO CHEAAAAAAAAAAAAAAAAAAAAAAAAAAAAAAAAAP !!!!!!!!! when converted to dollars !! and it's 1 hour leh...incoming call free 24/7
ok pretty sleepy already so putrajaya !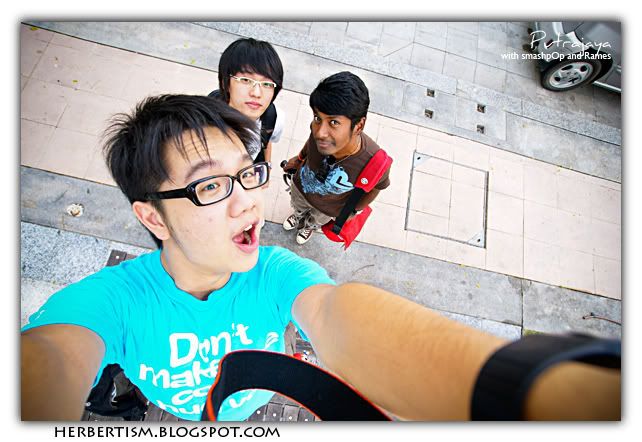 after KL tower, pOp and I went back to the pOp palace for a bit of rest before then going to Rames punye offis to fetch him and then heading to putrajaya
i've seen pictures of the bridge and i've been wanting to get my own shutter count on it too !
but the journey to the bridge was quite a long one...
we arrived at around 6 or mabbe 6 plus kenot remember but as the pictures show, even before my editing on them, that we were greeted with sangat sangat damn nais punya sky and soon will be followed with a sangat nais punya sunset !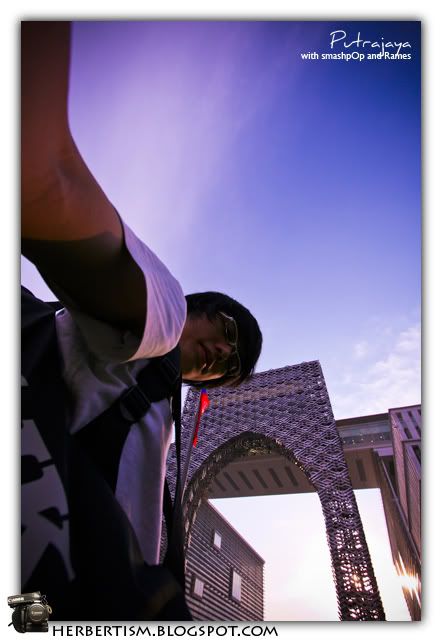 we parked some where to what they called the pyramid thing and began our walk towards the bridge where in between, was filled with lots and lots of talk about abdulah sitting in offis at the opposite end of the damn big building sitting there asking people for phictures coz want to edit them want to update his phictures at hic facebook and was there also sitting opening photoshop all editing phictures while creating his blog at the same time and all, definitely a whole session of laughter + many many many and lots lots lots lots lots of cam-ho-ing in entire way which machiam like we walk past 1 building stop cam ho like 20 pictures then walk a bit stop cam ho again like 50 pictures and then walk next building stop cam ho again like 80 pictures then see a big green patch of field on the way stop again and cam ho again like nobody's business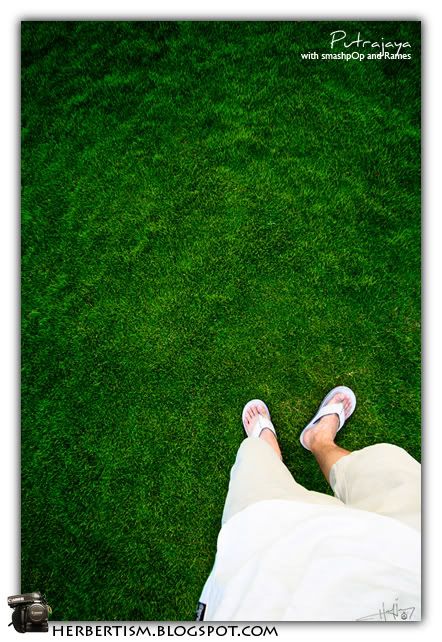 and before we were even halfway to the bridge, the memory card is already like filled halfway to maximum capacity, and yes i'm joking about the 20 pictures and 50 pictures and all or else this post will be entirely our faces but no i'm not joking about walk 1 building stop -> camho -> walk 10 steps -> stop -> camho somemore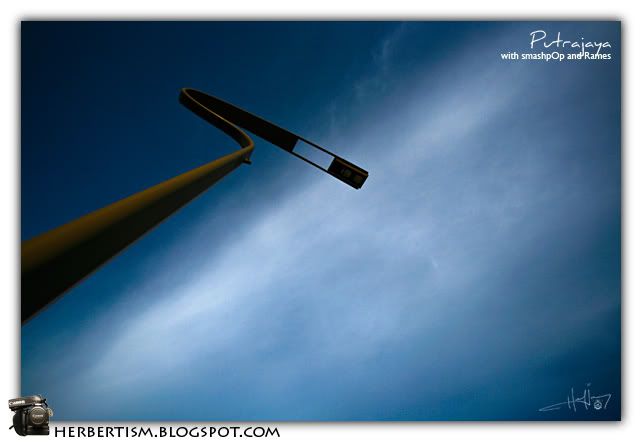 putrajaya definitely seems so damn out of place with the rest of kuala lumpur
the buildings seems weird, not that the buildings in KL aren't weird already, the buildings here are even so much weirder and roads and pavements are practically indistinguishable, road macham not road, pavement also bukan but got car pass all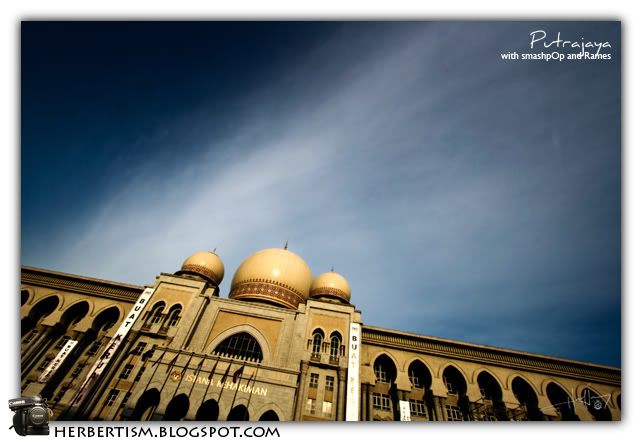 the wide damn wide space definitely made me feel so damn kecik surrounded by weird and big tall fat buildings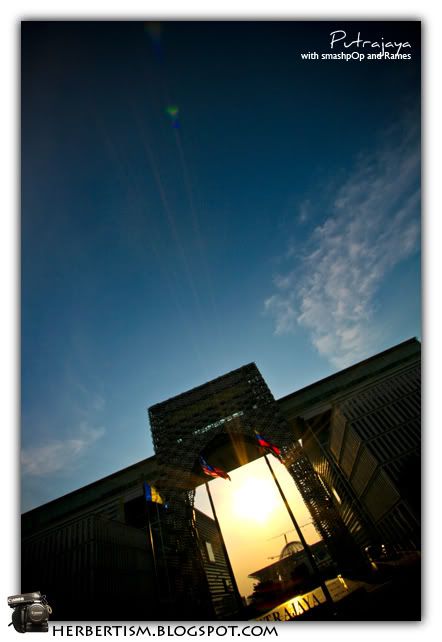 but don't care only
we take pictures everyday only !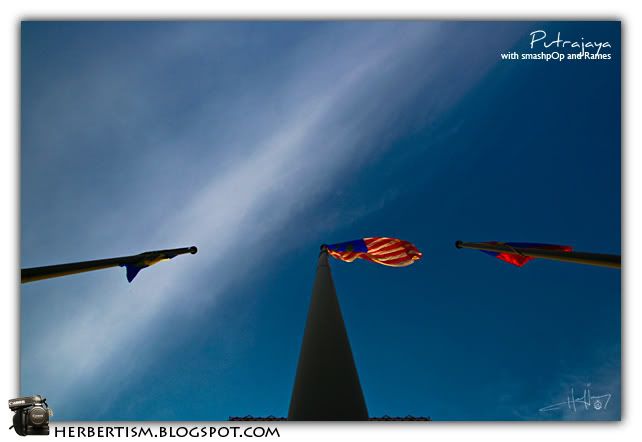 berkibarlah malaysia ~
make somemore weird buildings and weird looking bridge so my next visit will make me have even more weird pictures !!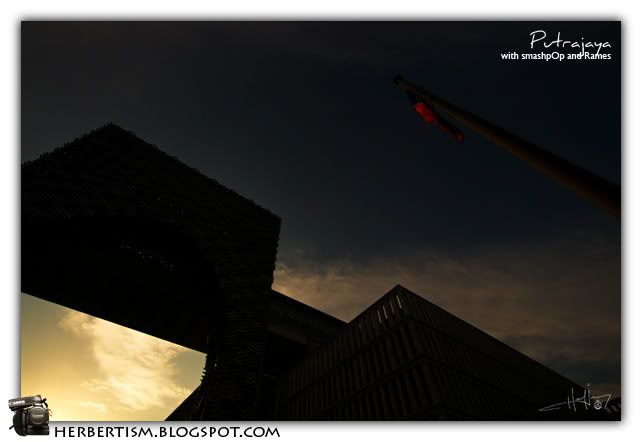 ok lah...
end of part satu :D