ok...now long sentence plus phictures !!!
lol
ok..so i got up again still quite pretty early for my time, at around 10 plus and then left home after all the bathing and toileting and all to fetch anggie again for our breakfast, nasi soto !! one of my favorite local food ! yes yes yes me love nasi soto ! apparently, there are quite a lot of version of nasi soto from different parts of indonesia and of course the one i love most is from medan ! the city of food paradise so we all left home to went fetch anggie at around 11 plus and got really really really stuck at the traffic jam cause there was some peaceful rioting going on somewhere in the middle of our journey which got me stuck there like for an hour plus till before i can finally enjoy nasi soto !
ok so how does nasi soto look like ?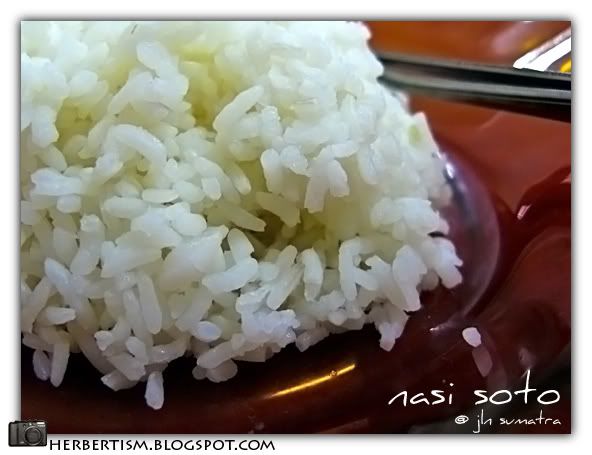 ok got rice of course !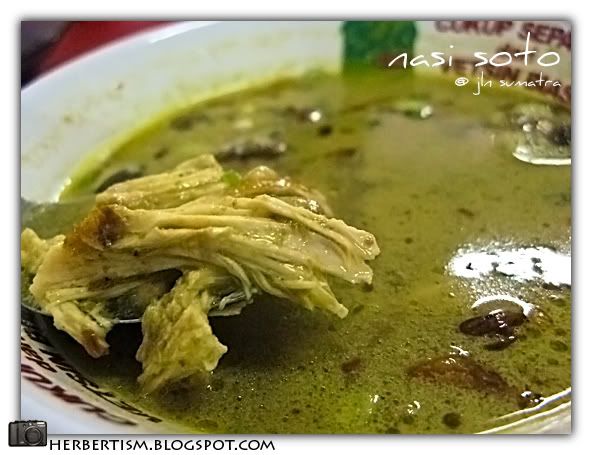 and got this !
nasi soto comes with different variations
got soto ayam
soto kambing
soto sapi
soto udang
chicken
mutton
beef
prawn
and me love prawn the most but then the place we went the prawn sold out already so i just settled for soto ayam. ya, it's only a bowl of this soto soup with chicken inside but the soto is like.......omg !
and so how do u eat it ?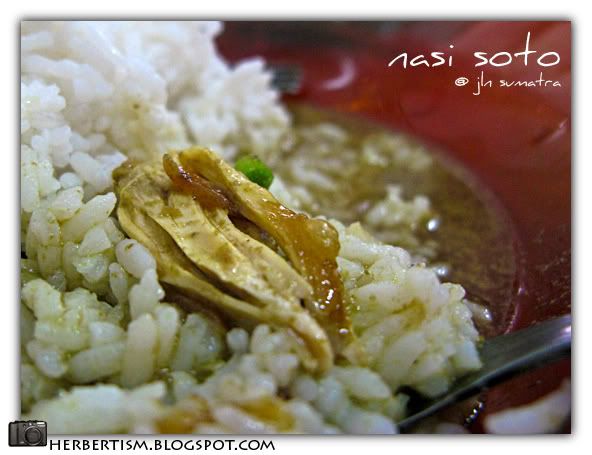 wet the rice till damn wet from the soto then slowly get a few chicken on there and add the chili....hmmmmmm makes me wanna get nasi soto again tomorrow !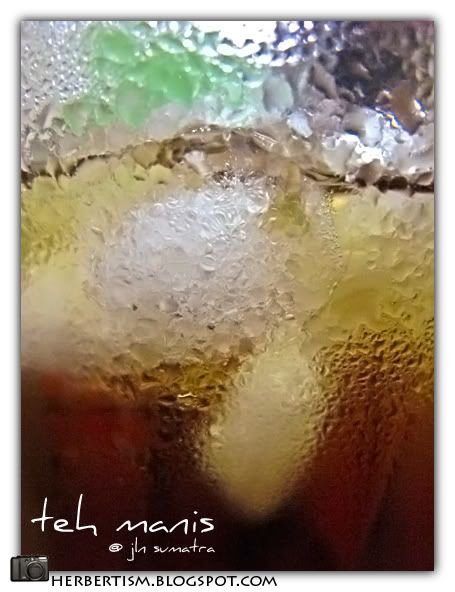 and a cup of teh manis dingin to accompany the food....
omg...talk bout it i become hungry again now !!
ok so after that we visited kasimura cause i wanna get a new number under a different operator, "3" after that went to this relaxing and spa place to get myself a good aromatherapy massage on this damn tired body but i was practically laughing non-stop throughout the 2 hours of supposedly shiokness cause simply because i'm not use to those kinda full body massages and haven't got any actual massages done other than the one my love gives me every now and then :D after the massages we went to jalan bandar baru to get our stomach filled again with one of the best place for a good satay padang but then then i forgot that i had my canon G9 with me so i never take pic d, after that went back home to get willy's luggages and off we went to the airport to send him home, sent anggie home after that and finally had some time to hang out with a couple of my local peeps here again and bought like 20 dvds on my way back to enjoy later on tonight and here i am lor
ok, i wanna finish KL Tower's post today so will be quite picture intensive d today, more than the usual that's it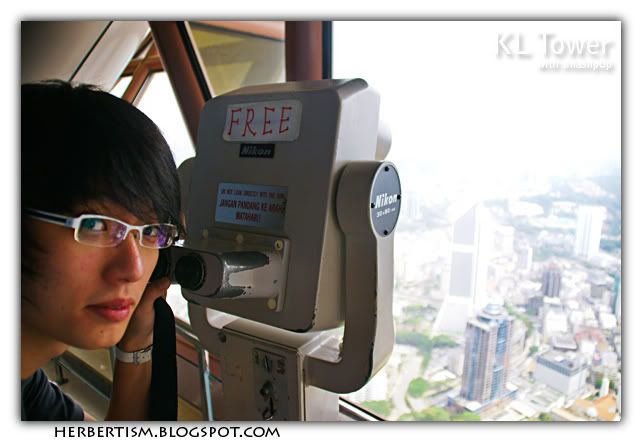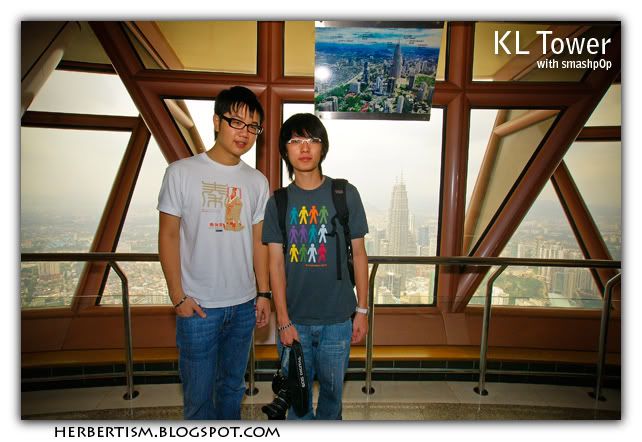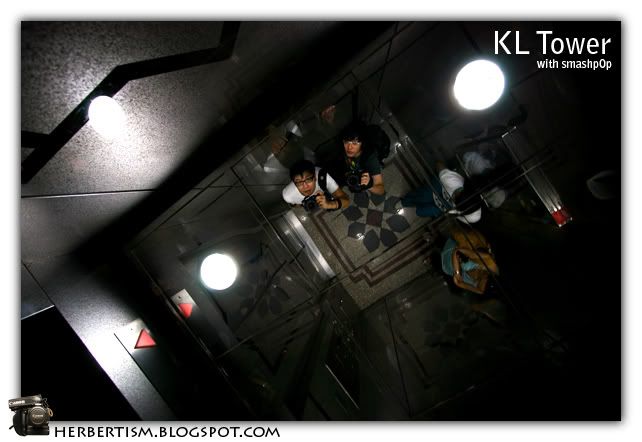 after going round and round inside,
smashpOp and i went to the outside for a bit of cam-ho-ing and of the KL Tower pics lor
one of the anyhow shoot pic that i thought turn out not so bad eh :D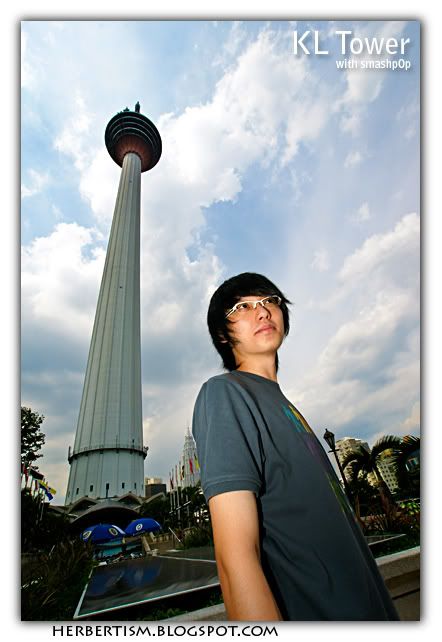 and then before we left............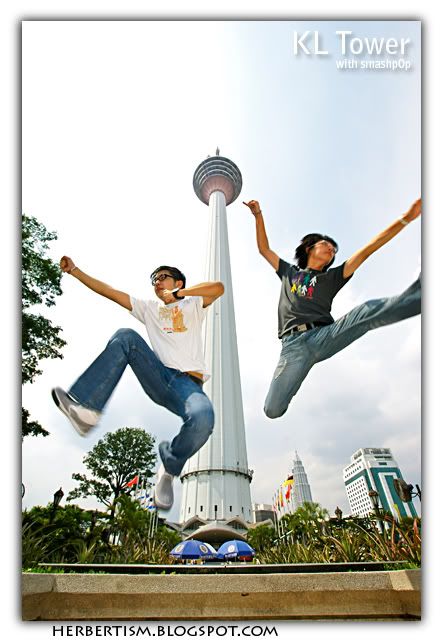 :D :D :D :D
for tomorrow !