OMG !!!
damn tired
damn pissed !!
so i'm finally back home !!!!!!!!
and i come home to the following :
1. internet not working, modem spoil
2. speaker also spoil, my 6 speakers spoil !! the best thing in my room !!! GRRRRRRRRRR
3. a super dusty room !! even more GRRRRRRRR
4. damn tired !
ok...so i got home
set up my computer
and u can see at the tag there
smashpop damn cannot tahan want me to post his face already =x LOL
ok it's me that cannot tahan also wanna post already
so i set up me lappie
and edit 3 pics first
and so here they are !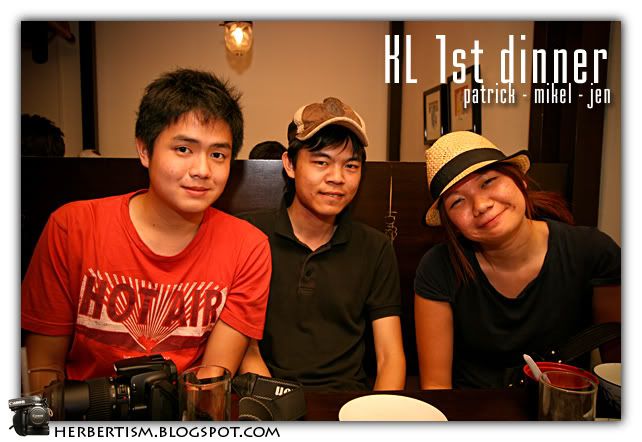 my first night dinner
smashpop brought me to midvalley to makan at some vietnamese restaurant
forgot the name
i was sleepy
i was hungry
and damn blur then
we reach
then we walk to watson to meet rames
after that splashmilk and patrick also come d
later on jen also join us !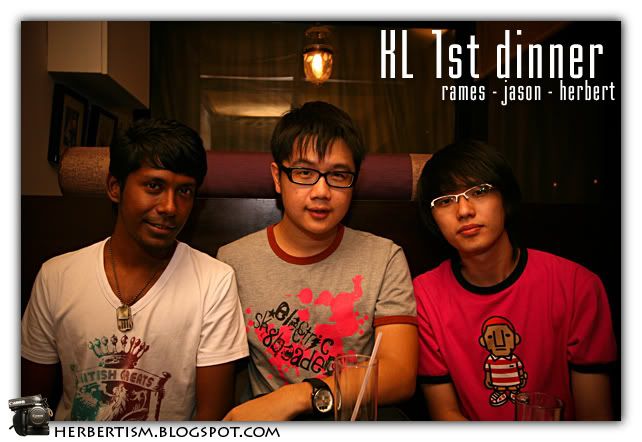 i didn't really remember clearly wad happen
but i know we were talking about some stupid indian movies at youtube
the horse all that can ride senget way all
then the indian james bond
then wad indian opera also lol
all that i remember is that we luff a lot
means i had a great time
thanks to those that come !
patrick mikel jen and rames
pop have to come also no choice coz i staying over his place
lol
but really
before i continue the pictures more tomorrow
really just want to shout this out damn loud :
"THANKS JASON and THANKS RAMES also"
these two dudes damn hensem damn funny damn fun all everything pack in one take picture everyday also all literally accompany me the 2 nights 3 days that i was there and kinda had to put up with my photog obsession a bit at putrajaya where we all walked damn faaar all in thirst and hunger and for that i really feel sorry d and now i really dunno what me talking already coz machiam now talk non stop and i still have quite a lot to be done still before i can sleep and i have like a long day again tomorrow so i better stop now before whatever i type become nonsensical but then i just really want to say that i really really had fun and indeed was quite a short break i needed from all those exams and sthuuupid projects and also i wanna apologize to all if during my stay i had done or say anything tak nais sangat
ok d
bye
everyday take picture there now come back have to everyday edit picture d
oh ya forgot about this pic
after dinner smashpop brought me to KLCC where i snap a bit
ok ok ok really more tml d