i think everyone that shoot weather, landscape
would know how fast the sky can change
how fast the weather can change
it kinda happen yesterday
thou not as fast
but the change was dramatic
was 180 deg
i was heroes-ing again yesterday
btw, finally i finished season 1
in 3 consecutive days
whoo !
= all the experiments can begin
and yeah i did shoot a bit of my thoughts yest
but still ain't perfect yet
anyway, back to the weather
yeah so i was heroes-ing again right
so like at around 12+ i decided to stop watching a while
coz damn hungry
then i take a look of the sky from the window
WAH
got blue sky
sky of the past few days have been tremendously disappointing
and blue sky now
meaning
10-22
go try try
i went upstairs
OMG
it was so damn HOT
it was so dry
i went back to my room and attached a nd8 filter
it was so hot
i could even still shoot hand held even with a nd8 filter attached shooting narrowly at f/11 man !
nd8
that's 8 stops of darkness balls
so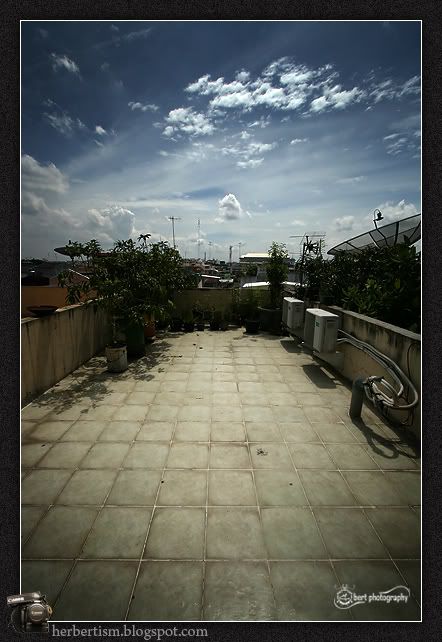 i don't know what would u call that
balcony ?
no...i dunno lah
and after that was just shooting the skies
and playing with b+w again
and a bit of camho-ing
aha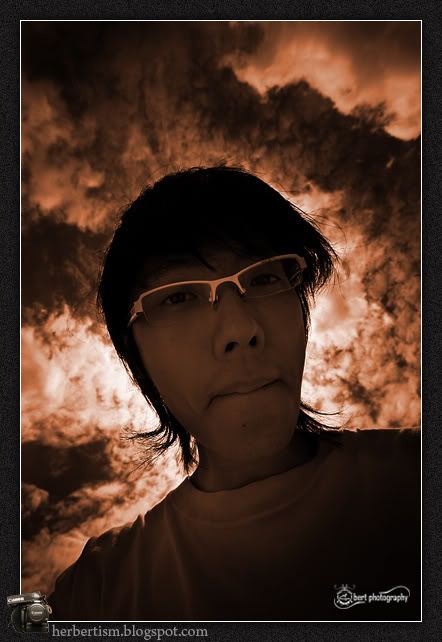 looks very fiery hot eh ?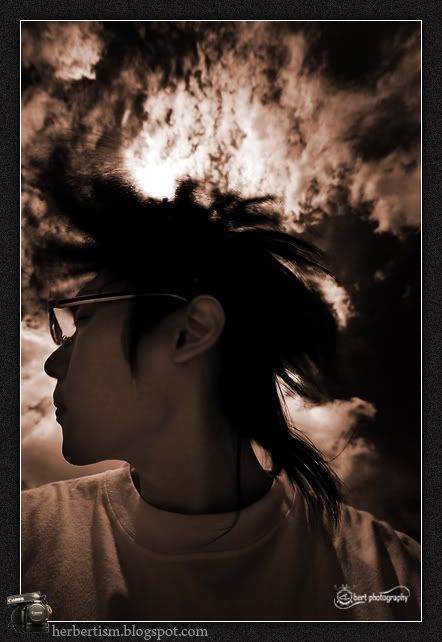 and so after that i went back to my room
transfer the pics and all
edit here and there
and went down for my breakfast/lunch
continued heroes-ing after that
2 episodes later
i went up again and the sky was
DARK
DAMN DARK !
even before i converted it to b+w it was very dark already wor
and hand held
i shot my very first LIGHTNING with the 10-22
hand held okay
ahhahaha
damn lucky
thou compositional wise not very satisfying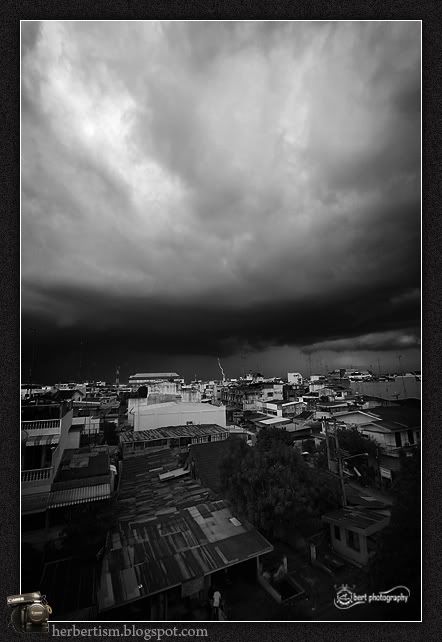 can see where the lightning ?
the sky outside right now is again
very disappointing
and so
it's time to go out
lunch with my baby darling, f
:)
ps. the guys are coming tomorrow,
herbertism.blogspot.com will make a 4 days trip to lake toba and brastagi !
and i don't think i'm gonna be brining the lap top
so my photo storage will be only of 5 gb
and i kinda hope that will be more than enough =D
later ~