say..it's been almost a year since i write a compo.
i was browsing over my pictures folders.
singapore 2000 - 2004.
well, actually just the last few years la.
here are most of them.
the labourdor ? camp.
okay okay.
i don't fucking know how to spell it.
labedor.
labodor.
ah..fuck it.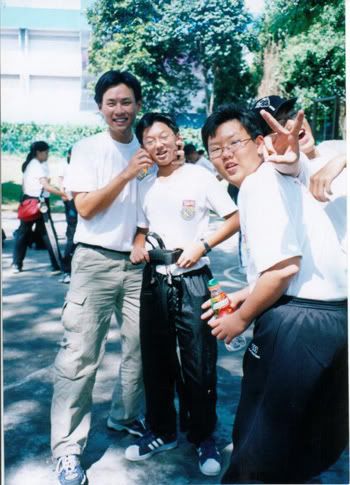 DOOD ! nige was so cute !!!
and that's "wen bo" "china tone" the tallest fella in e pic.
e other guy who had the head accident....forgot ur name.
sorry.
we were never in the same class.
or...had we ever talk ?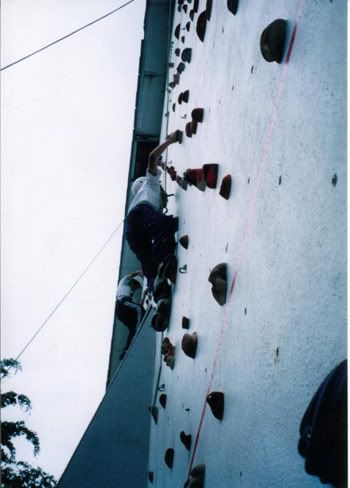 that's mE !
me okay !
that's my fila shoe there !
and i saw poh down there taking the pic when i look down moments later.
can still remember it !
poh in that sleeveless gray tee.
before the rock climbing
ermmm.....can see cz and i inside.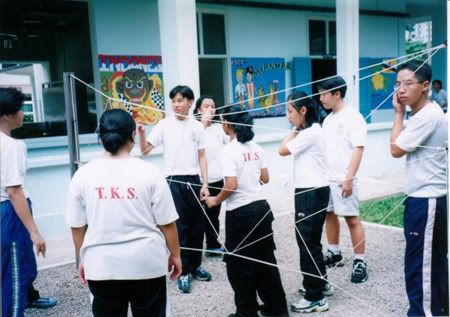 CZ !!
HAHAHA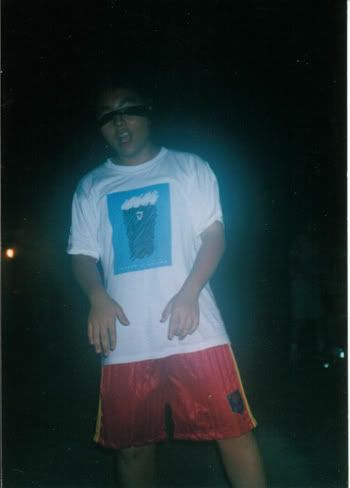 some anonymous mad fella =x
that's ashleeeey yo !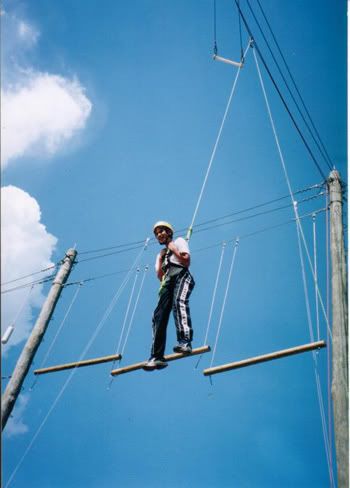 adam's afraid of heights.
then there was canoeing.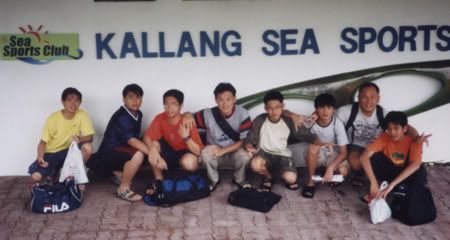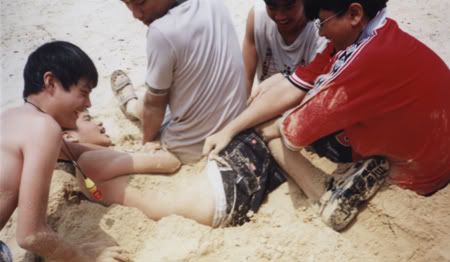 molesting adam.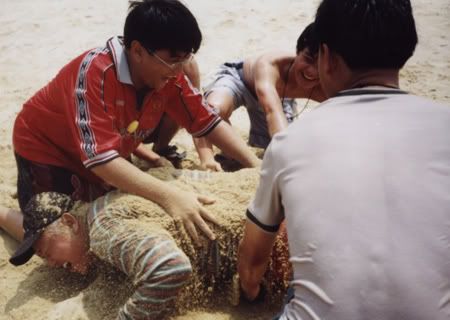 then molesting poh.
he must be happy.............................................
if only we knew.
TAMAN NEGARA !
the most unforgettable event in my life. EVER !
okay may be SO FAR !
wif my frens one la.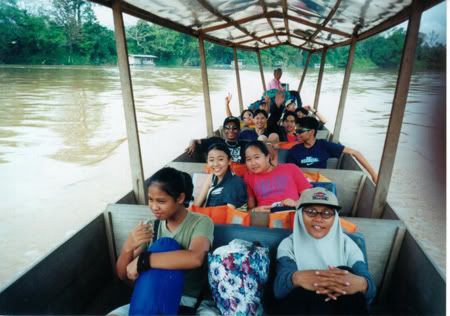 boon : eh i help you.
nevermind.
boon *fell* : wa...heng my watch nv fall.
did he say something like that ?
i just know he kept trying to help people but in the end he keeps falling too.
and there was a fellow who made funny noises in the camp wif kelvin.
hermmmmmm......
what were they thinking man.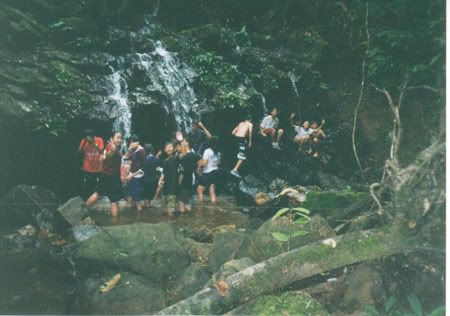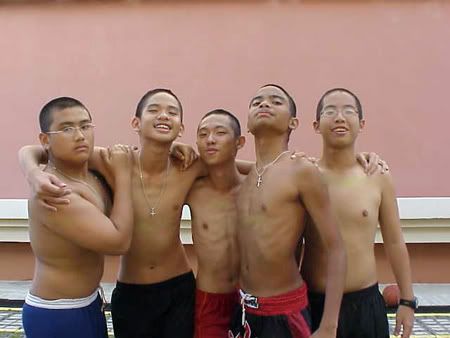 you guys are the best !
baldies.
during national day celebration :)
boris ! whatever happen to you ?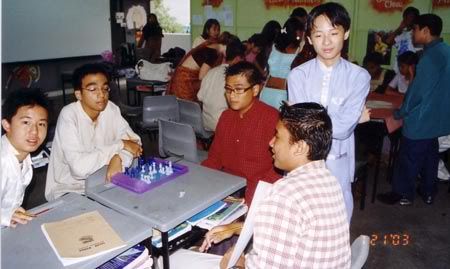 my class !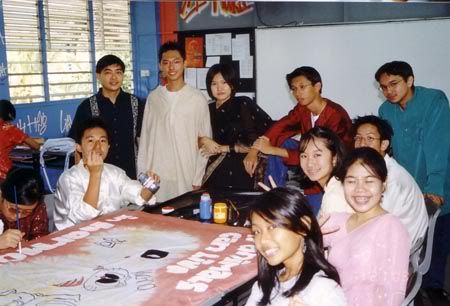 that gal is not my gf or my ex or had i had any interest in her.
i don't know why she did that.
i too just found out when i saw the pic.
graduation....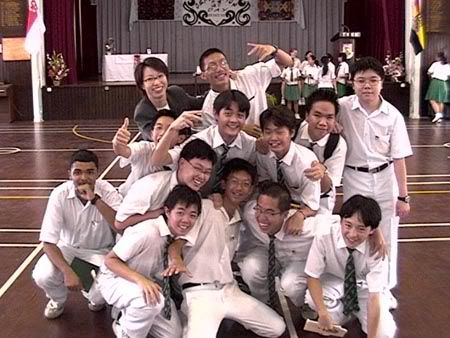 mrs patricia.
you are the best teacher i've ever had.
my first day in school.
It was 6 years ago when my previous guardian first brought me out. I was in an all white uniform, with a super heavy bag armed with a huge water bottle. The previous night I was all nervous i could hardly sleep, I kept thinking what would a Singapore school will be. How will I click among the mates in school. My english was still very limited then. I was afraid and keen at the same time. Afraid of the new life facing me. Keen, however, to start a new chapter in my life.
We walked to the bus stop before Parkway Parade. My back aches from the heavy load. I was not given the timetable so my guardian made me bring all the textbooks for my very first day. The bus ride were much shorter than I've expected. Not knowing to me, we only stop to change yet another bus. My guardian and I stopped at the bus stop opposite parkway parade to catch bus 15. It was like that then till I found a nearer way for the rest of my secondary school life.
Once we arrived, we both headed to the office. It was Mrs(i forgot her name, but she taught us chemistry later on) who ushered me to my new class, 1C. I was in a normal academic class. She later told me to head to the basketball court for the morning assembly. I walked among rows of students from 1C and 1 B and stopped at the then sky high Wu Zheng Fa and Cau Heng. They both were my first friends in Telok Kurau Secondary.
They all sang "Majulah Singapura" before the pledge. Everyone then started clenching their fist and put them agaisnt their left chest. I was dumbfounded. There was no such thing both Indonesia or Malaysia. I turned to Syed who then asked me to put up my fist too the way everyone did. I clenched my left fist and put them agaisnt my right chest.
I sat right to the back after Zheng Fa and beside Cau Heng. I was all silent still. It was then that Rudy came to me and asked....
"Indo ya ?"
"Indonesian ar ?"
"Ya" I replied.
"Dari mana ?"
"from where?"
"Medan, lu ?"
"Medan, you ?"
"Jakarta"
He then went off right after that. Again, I sat there alone. Not knowing what's the next lesson and basically not knowing what's going on.
It was still clear in my mind of that first few hours of my first day in school. While the rest the day are gone in my memory, never could I imagine the moments and times I had there will be so amazing and beautiful. For that, I thank my friends for giving me such a wonderful time, for filling that chapter of my life with me, for everything that we've gone through.
god damn it.
so jia lat.
Fuck that Mr.....wait let me see my lecture note...TAN SOON MENG
damn it.
u deprived me from my beautiful and wonderful sleep.
forced me to study all that 24 cases and you came up with such a question ?
damn you man...damn you
you just conducted farudulent misrepresentation man.
you KNOW that everyone will study the cases and you test the theories.
damn you man.
u just breached the contract between you and the class.
cunning fella.
luckily we did not create a legal intention for the test ar.
or else you die ar.
got offer ( you offer to test us )
got acceptance ( we accepted to be tested )
got consideration ( something for something right...hermmmm...let's see....you fulfill ur obligation for the contract u made wif SIM and we get our marks )
lucky you
lucky no intention to create legal intention nia.
or else i brain wash the whole class to sue u ar...
then the relevant case is :
lim geok hian v lim guan chin
only youuuuuuuu
can make the world seems rightttt
only youuuuuu
can make the darkness brighttt
only youuuuu
and youu aloneeeee
yes...only you princess :)
can fill my heart with love for only youuuuuuuu
that's some long entry up there eh.