- side note a bit, i never know i have like 60 friends at facebook already
facebook is never in my oftenly visited site
that is why i've never replied all those punches and gifts these people sent me
- today is officially the first time i went street hunting in medan !
results weren't amazing but still i kinda like a few of the shots
- kana blackout at night again = experiment again
fired a few hundreds shots
only a few made it
but those few kinda make the wasted shots worth it :)
- i've watched heroes up to season 2 epi 11 !














obviously the main event of visiting lake toba is to be visiting the lake itself
located in a small town of parapat
lake toba today hasn't been what it was
i had been there years ago
and for a as long as i could remember
lake toba has clear blue water
which is all gone right now
i remembered fishing with dad in the middle of the lake
i remembered being able to see right tru the bottom of the lake
but then again
during our visit
the sky was absolutely magnificent !
we rented a speed boat with the driver (what do u call one who runs a speed boat ?) to send us across to samosir island
an island right smack in the middle of lake toba the size of singapore
all together, we made 3 stops during our watery journey
-sally-anggi-me-yuli-homesick-
deso and st wasn't captured coz they were sitting behind then
the water was calm during our journey to our very first destination
= it was possible for me to whip out my camera and shoot around
= all these pics are taken when the boat was moving at quite a high speed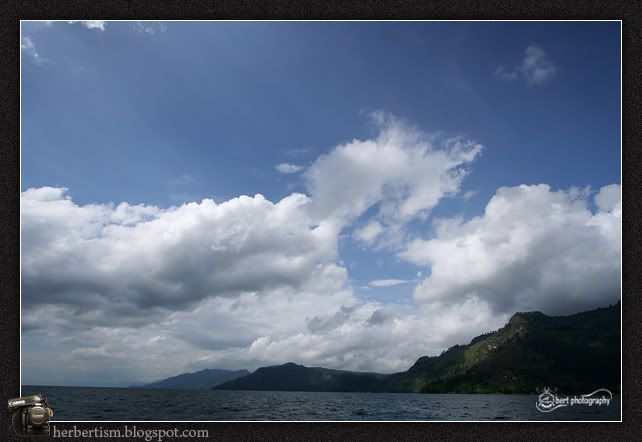 never crop
never do much at the editing either
still got lots to do before i can finally properly edit these pics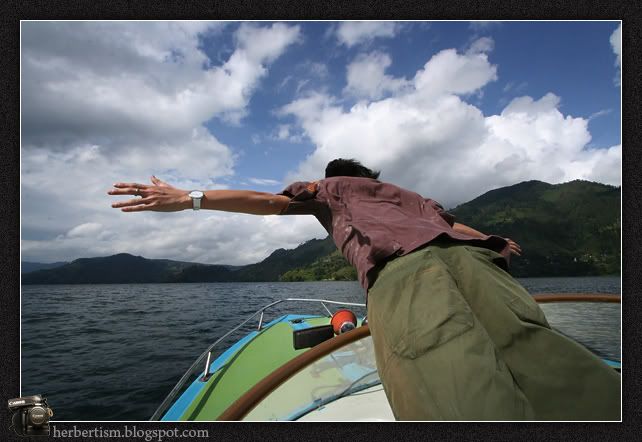 homesick asked me to do the titanic stance
~and i knowww that my heart will go onnnnnn and oonnnnnn~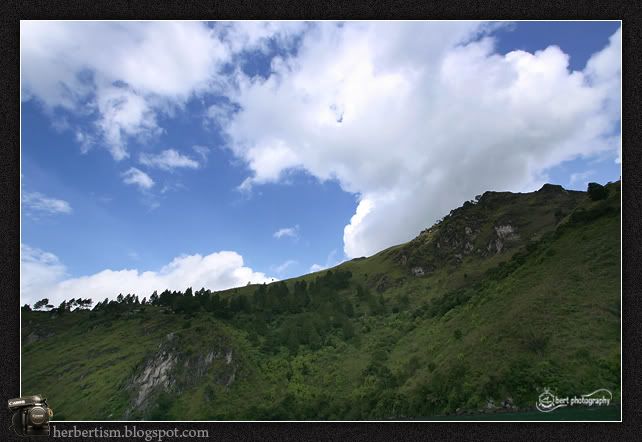 and this is our very first stop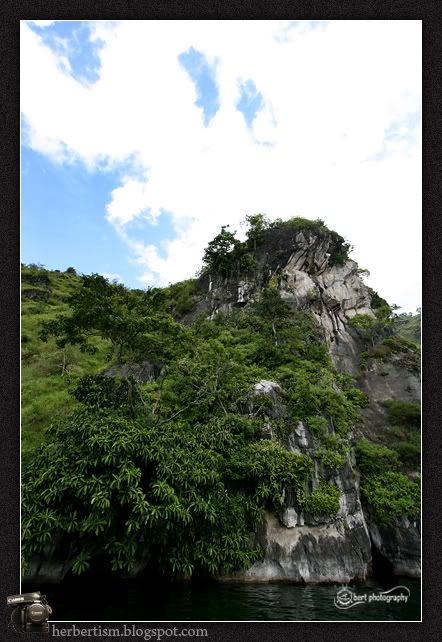 the batu gantung
this is of 10mm thus, u cannot see it la
batu gantung literally translated to english means the hanging stone
so what's so special about this hanging stone ?
this stone is in a shape of a woman with a dog !
legend has it that
long long long long long time ago
there this gal who like falls in love with a dood
then the parents tak agree with her relationship with that dood la
one fine day the parents go tell her that she is gonna be married to someone that they had chosen for her
she not happy
so she took her beloved and only fren mr.doggy
and then go jump down to the lake
but then ar
the locals believed that it's not very nais to disobey your parents
so must do whatever they say even u buay song with it
that's why she was cursed when she jumped down
then kana become stone like that
and yes
the said stone is really in a shape of a woman jumping down with her dog at her side
we asked our "driver" to explain the story behind the stone
i know the story already one
but deso, yuli and the rest dunno wad
so ask him to explain again
we then sit around in the boat cam-whoring for little while before we move to the next stop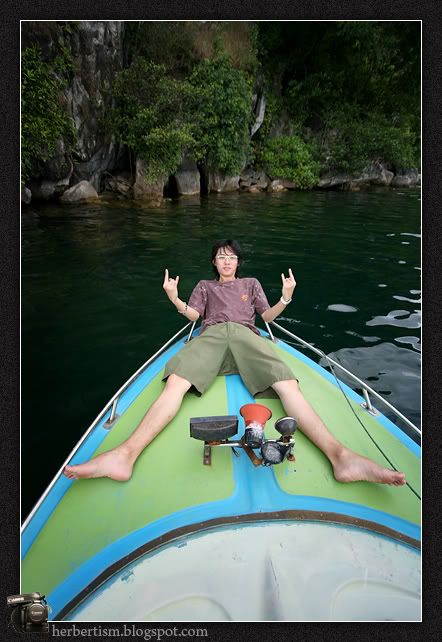 fwah..what a long entry