about the SOLD $1500 thing
i went down again yesterday to ask clearly on how did it actually go about
so apparently the person interested in my picture the day before wanted to pay and take the picture away there and then
but since the promise was to exhibit the picture for both days
saturday and sunday
that won't be allowed
unfortunately then the person had left to Genting Highlands but called again yesterday to say that she will get it when she's back to singapore
so hopefully she do call d
>.<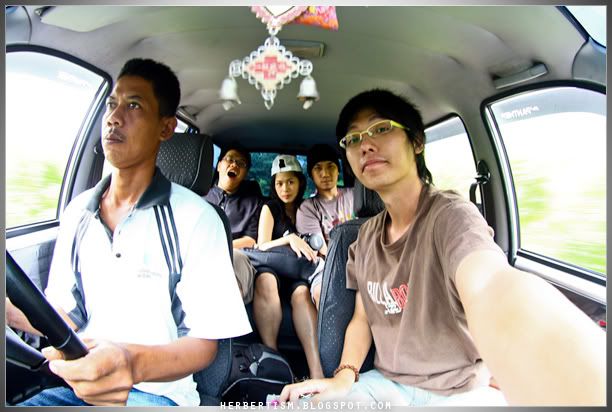 introducing the cast for my toba trip
from left to right -
kempes, ali, erna, arifin and me myself and the camera
i was pretty much sick for most of the days that i was there but was worst when i had just got there...i spent pretty much the first evening till morning sleeping sleeping and sleeping
it was not until noon the day after we reached that we began our journey out to shoot
anyway
during one of the nights there
i was awake, well like usual
i remembered it was around 2 a.m.
and i looked up from the cottage we stayed from and said to myself
OM GOD
SO MANY STARS
"KEMPES...TOLONG AMBILIN TAS KAMERA GW DONK !"
"EH...SAMA TRIPOD SEKALIAN "
he was in the room ma
so i asked kempes to help me take my camera bag out and the tripod at the same time
so i began setting up
first shot
"BANG"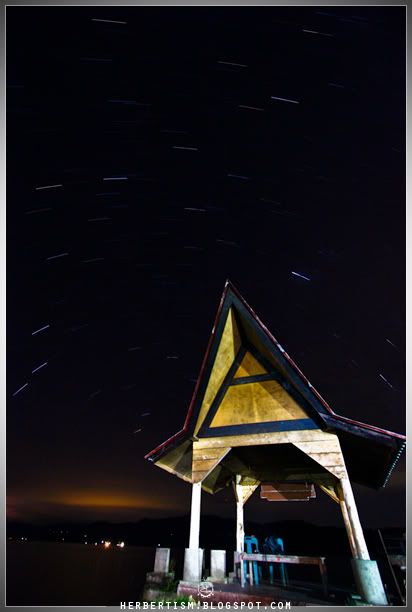 not bright enough
means have to put longer exposure
first shot was around 15 - 20 mins i think
2nd shot
"BANG "
okay..not so bad
let's try another one
3rd shot
"BANG"
something funny in the shot
AND OFF i ran back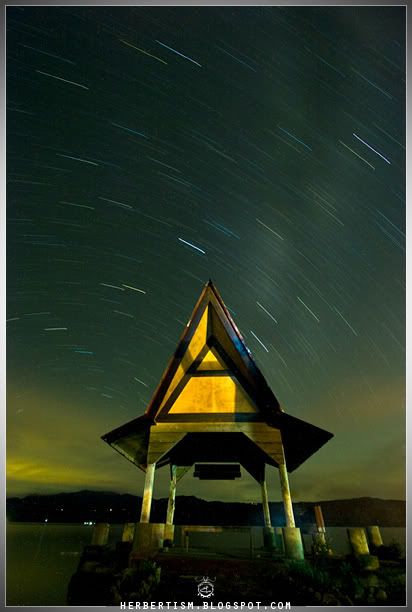 this is the edited version of the 3rd shot
in actual case
the uneditted one shows this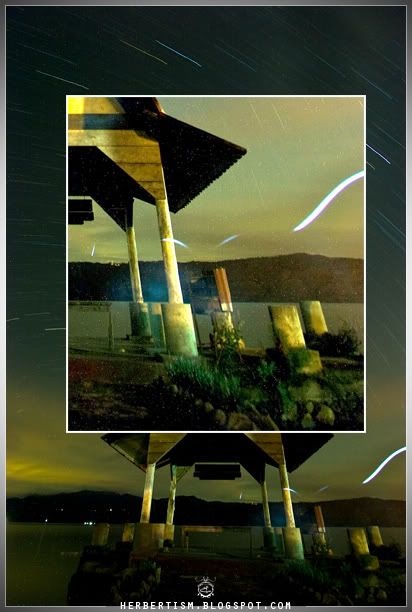 wtf ?
there are sources of light form the lake ?
plus
i think that's one ship in the picture lor
which i couldn't remembered seeing at all
the next day i showed kempes what i saw
the ship
and he said...
"mana ada kapal kemaren"
"loh...kok bisa gitu yaa..."
" where got ship yesterday "
" ...why can like that..."
okay
one last shot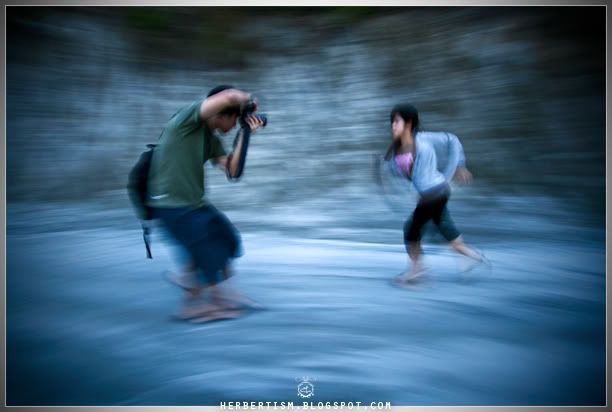 lol
panning of arifin panning erna running
lol !
ok more tomorrow