i just got back from KL...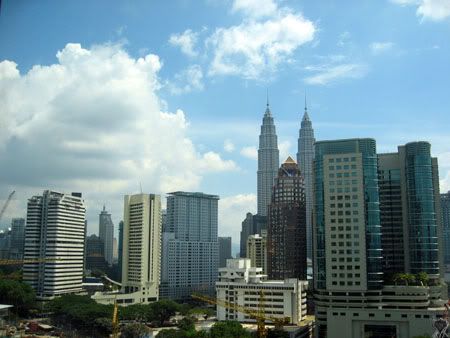 - the exact view from the hotel window
all this started with a piece of newspaper article,
steven yeam, the man behind all these himself has made 300 over people millionaires.
unbelievable, yes.
me too doesn't buy into it just like this.
i spent the previous 2 months learning about this eunique business.
and came 12 may 2006,
i followed the team to KL to see it with my own eyes.
24 of us went.
we were accomodated at The Westin,
a 5 star hotel in KL.
the room itself was amazing..
- one end of the room
- the place where my group slept.
- er...
- it was 4 a.m. and we are still talkin about business
there's still the kitchen, another room and this is not the only suite we was accommodated in.
there's another one.
come the next day,
we went to NDO, new distributors orientation.
IT WAS MADNESS.
1200 people in a hall.
over 200 millionaires.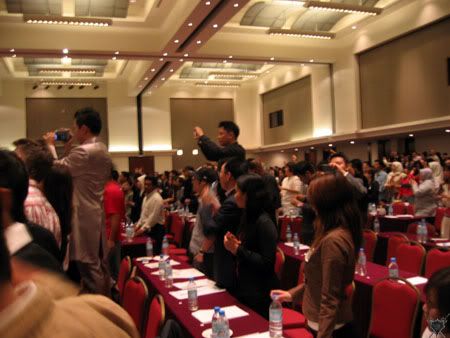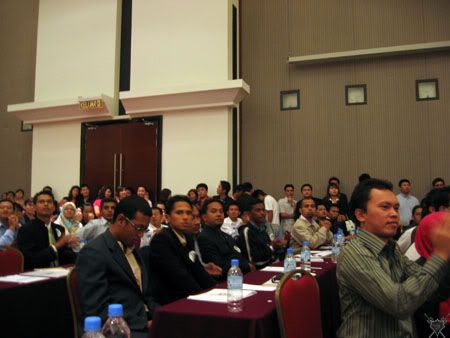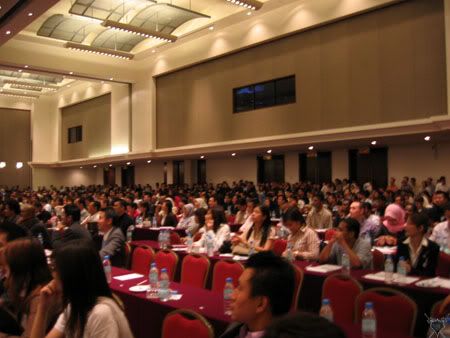 - the millionaries.
just imagine that,
all those people.
clappin with you at the same time.
shouting the same slogan together.
people that come from as far as italy and LA.
people from indonesia, cities all over malaysia, singapore and thailand.
all stood for one reason.
wealth and time.
all sharing the same main dreams.
all working under the same man.
madness.
if this 1200 are fools, then i guess i'm a fool too.
and if those are fools,
then i really don't know how those porshe, merz, bmws, ferraris are parked outsite the building.
totally,
it's crazy.
and all these will not happen if i've never met this man.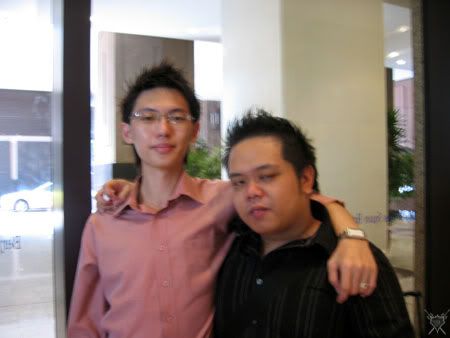 thanks to you, bro.
this experience.
changed my life.
apparently,
there'll be an event we'll be launchin on the 8th of july.
this is what's gonna happen.
6000 over people are coming to Singapore.
one Party Venue. the whole stretch of Siloso Beach.
this itself would require 120 Buses to transport them to Sentosa.
traffic police and Cisco will probably needed to escort the huge convoy of buses.
defintely would cause a stir on the roads.

Banners would be hung along Orchard Rd, Changi Airport and the Singapore Checkpoints to welcome these people into Singapore. saying 'welcome SYN Delegates into the 5th Annual International Members Exchange. Singapore Tourism Board. Uniquely Singapore.

why? the event itself cost 2.5 million. Estimated of 9 million would be spent in Singapore on that day itself. there are plans that Louis Vuitton Boutique will be closed for a day to cater for these people.

the earlier part of the day would be a formal affair at Suntec Convention Centre and when the Nite comes.. the Party of the Century!

1) Lucky Draw, 150k cold hard cash given out
2) would be donating 100k to charity
3) convert the beach into a ZoukOut cum MOS cum Countdown event. why? there are a few arenas.
Foam party - wild wet fun for the young and happening
Jazz and Canto Band for the guys who loves live music
KTV for those who loves to show off thier lovely voices
Stage area with seatings of 5000 people for speech and lucky draws
Rave Party for the dance-aholics
4) there would be a great BBQ, now imagine a 6000 people BBQ.
5) Hundreds of Barrels of Hoegarden beer and Guiness Draft and Red/White Wine.. no cheap beers.. only the best exclusive beers on the market.
6) Fireworks to light up the sky along with Giant LIghted up Balloons.
imagine 50k worth of fireworks against the backdrop of the mini island behind Siloso beach.
7) there would be plenty of media coverage. Media Corp will be there.
8) there would be a full page advert in the Papers.
9) Magazines like Tattler and Prestige would be there.
10) the 6000 people coming are from Malaysia so many would bring their BMW's and Ferrari's and SLK's and Mercedes and Porsches,

if you wanna know what exactly that we're doing...
give me a ring at 81399971,
my team and i will be glad to have you with us.
so...are you a follower or a leader ?
this experience had definitely changed my life.
come on, there can't be so many fools doing the same thin at the same time...
even if they are all fools...
how come they are earning so much more money than you and even your parents.
my million dollars dream...
starts today.