it's a sleepless night
after finally managed to force myself to sleep for 2 hours plus
i changed, bathed, prepared and left for the competition
10.10.09
the Canon Photomarathon 2009
as announced
over 1,400 people joined this year
though it didn't seemed that it's some 1,400
seemed like last year were more
anyway
so yeah
reached around 8 am at Suntec City
gather here and there
and before the competition began
the usual group shot
photo shamelessly stolen from Clubsnap =x
and so the first wait begun
as people came and register
we waited
and then they announced it
first theme of the day
"TOGETHERNESS"
well, after a little of brainstorming
this thing straight away hit me
i don't know why i didn't even bother to think about any other thing
but i just went off to Mc D
took a couple of sugar sachet
and started shooting these
yeap
ants
and that was all that is hot for the theme
ants and more ants
fired off some 50 over pics of them i think
finally chose the one above to be submitted
as i was queuing to submit my this photo
i was discussing with my fren on what'll the next theme will be
"speed" she said
"movement" i predicted
and not long after that
they announced the 2nd theme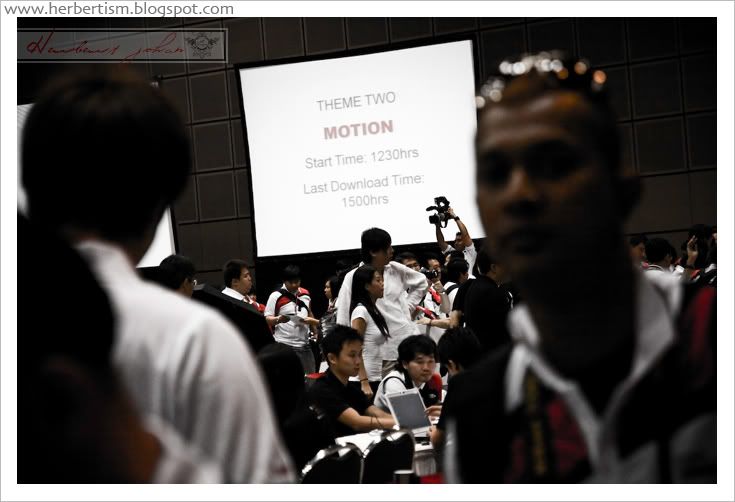 pretty close eh ?
at first i thought it'd be an easy theme
coz i'd also like to think myself of a photographer who's doing really not bad at all in the technique of panning
but then after more thoughts
i knew that 50% of the participants will definitely be submitting a picture of panning as well
as i saw more and more people setting up their tripods
i decided to shoot something else
then cannot think of any other thing
so i decided to just make my panning shot somewhat more different than others
i shot this at first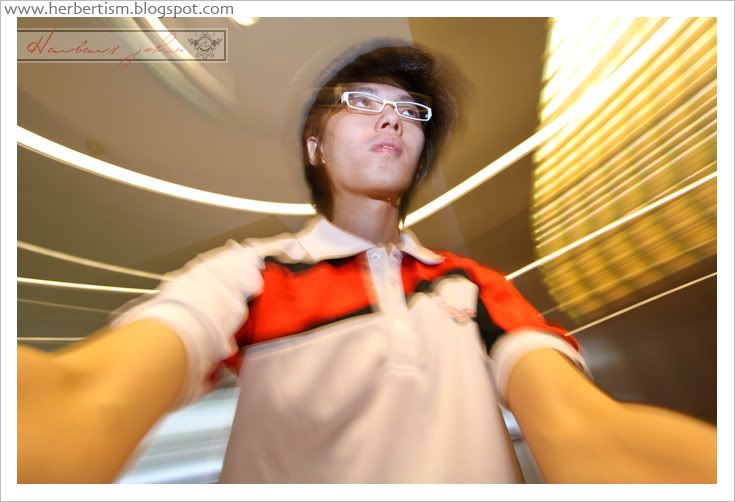 well
a little confusion there
i thought the cut off point for submitting photos were 2.30
so i quickly shot
and just submit
apparently haf to wait till 4 pm -.-"
so we shoot shoot around
haha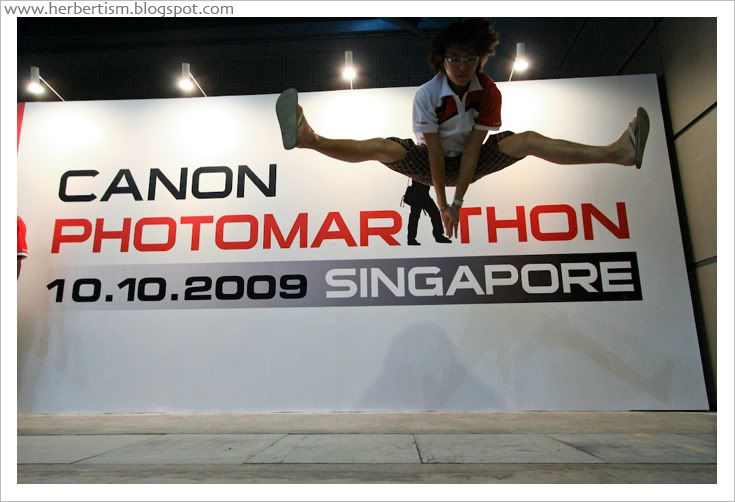 and then i saw this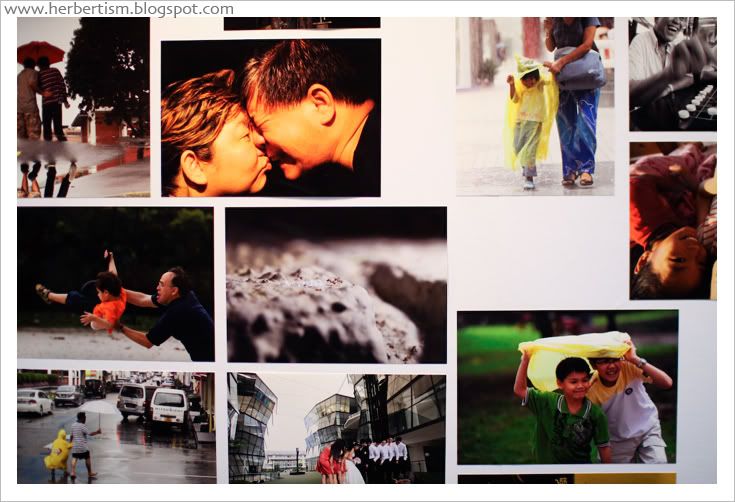 my ants photo kana shortlisted !
so was quite ok
quite happy
quite satisfied a bit
but wasn't really expecting a win
thought the other shots were much better
so had to push for the final theme lor
coz i knew my 2nd theme sure also cannot make it one
and then went down for lunch
when i got back up
saw a lot of people come out liao
means theme 3 come out liao
to my -.-" - ness i found out the theme 3 was
"ENERGY"
like....
so tired
slept 2 hours+ onli
simi Energy la
but then
not long after that
i knew
i was gonna make this shot
i went off to marina square to hunt for a torch light
got it
borrowed Desmond's tripod
and started firing off and painting with light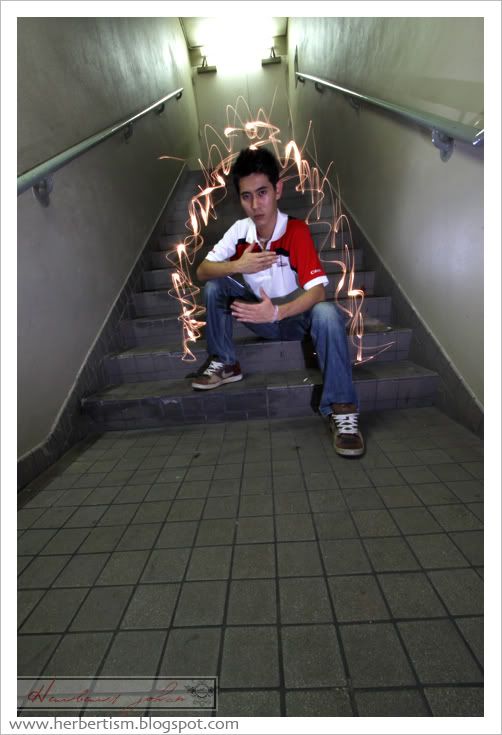 then this
before finally i got this
of which i submitted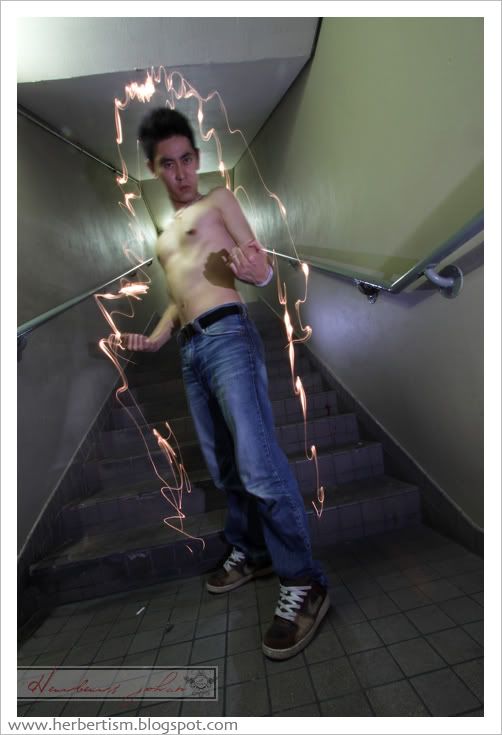 very dragonballish
was too tired to think for more
helped around the guys' shot
around marina square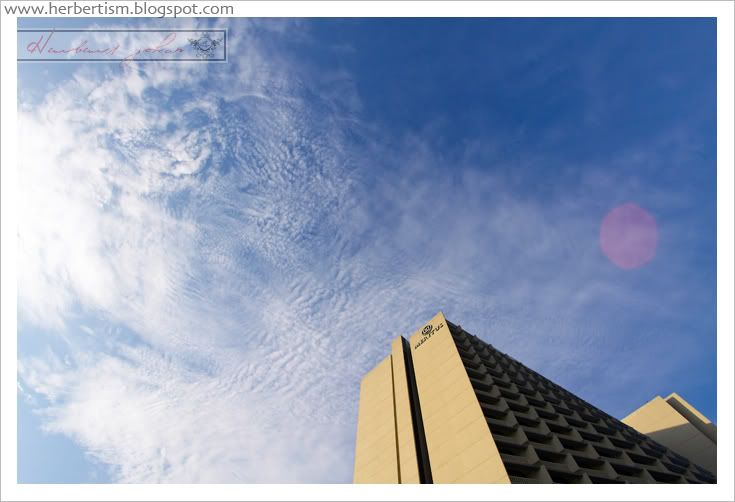 then got back to Suntec City
submit photo
and the waiting time begin
went to clean the sensor and lens thing while waiting
then they started putting up the shortlisted photo of theme 3
9 photos up
and mine weren't there
disappointed a bit
went to sit to finally rest and wait
then i got the call from fai ming
saying my photo's been shortlisted again
happy
and not long after that
the prize announcement began
Theme 1
open category
3rd prize
not me
2nd prize
no
1st prize
zzzz
ok..theme 3's the final chance
Theme 3
open category
3rd prize
no no no
2nd prize
also not !
"damn it, this year not winning anything. 2 pictures shortlisted and none even win"
1st prize
and the emcee announced
"MR....YOHAN HERBER"
when the yohan first rang
i look down to the floor
aiz...
so 2 years consecutively were all that is
and then when i looked up
i saw
Johan Herber
eh ?
and then the picture
and then the ic number
and i jumped off my seat !
so yeah
for the 3rd time consecutively
I won
the 3rd Theme 1st Prize of the Canon Photomarathon.
Canon Photomarthon 2007
- Playtime - 1st prize
Canon Photomarathon 2008
- Freedom - 1st prize
Canon Photomarathon 2009
- Energy - 1st prize
and so
I scored the Hat Trick !